This fall, I am
interviewing several families who are adopting children profiled on Reece's Rainbow and sharing their stories on the blog.
Have you heard of Reece's Rainbow?
Reece's Rainbow is an amazing foundation that helps to raise funds to bring waiting children home from overseas. There are many families wanting to adopt special needs children, but the overwhelming cost can be a barrier.
To learn more, click here
This week I am interviewing Amanda Patterson. She and her husband Darrel are adopting for the second time!
First of all, I'd love to hear a bit about your family!
Darrel and I have been married for 22 years. We met in Bible School where we were both training to become missionaries. We've moved more than our fair share of times throughout the years, including Mexico where we served with New Tribes Mission for 3 years. Darrel is now a chaplain with hospice and also the pastor of a small church on the coast of the Gulf of Mexico.

Who are you adopting?
We are adopting Vienna, who was born in a South American country. Right now she is 20 months old and has a condition called Arthrogryposis. (Basically, she has multiple joints that are contracted--stuck in one position.) A few months ago when we received pictures of her she had casts on her feet as part of the procedure done to correct her clubfeet due to Arthrogryposis. When she comes home there will be more procedures and surgeries necessary.
Do you have any other children?
Yes, We have 5 children. We had 4 biological children before adopting Joseph from Ukraine in 2013.

Andrew is 21, Abigail is 19, Elizabeth is 16, Meredith is 14, and Joseph is 10.
Joseph was 8 years old and living in an intranet for children ages 5 -19 yrs. old. He had spent his entire life in a baby orphanage and the intranet for children with physical disabilities. Joseph was born with Arthrogryposis, the same condition that Vienna has. Joseph's legs were severely contracted but he was able to get around by crawling or using his wheelchair. His arms and back are also affected by the joint contractures and lack of muscle. When we came home we found out right away that doctor offices were terrifying to Joseph. We had planned to begin medical treatment right away, but God had different plans.
God knows better than we do! Because of how severe Joseph's leg contractures were the doctors we visited in Texas would only tell us that nothing could be done. For a while we waited, but doing nothing didn't seem like the right thing to us, as his parents, or to Joseph. We were referred by many friends to a doctor in Philadelphia. A year and a half after being home Joseph had his first appointment in Philadelphia. During that time of waiting we had time to bond and Joseph had time to learn that we were trustworthy. He also had time to learn English. With being able to understand more and trusting that we would protect him, he became much less fearful. In October he began the process of straightening his legs. We are still in the process and may be for quite some time. But, because they are getting straighter they are growing better and he is able to sit in a wheelchair more comfortably. He is even working toward walking one day!
Joseph and I spent months in Philadelphia while he has had surgeries and serial casting done, but it is worth it. Joseph's got the greatest sense of humor and loves to make people laugh. That has served him well, and he makes friends everywhere he goes. Every day is an adventure with Joseph. We praise God for giving him to our family.

What led you to adopt? Did you feel called to Vienna?
Several years ago we were introduced to the website Reece's Rainbow. As we saw the faces of so many kids that needed families, our hearts were opened to the need, and we knew that we needed to do something. We contacted Reece's Rainbow and asked if we could advocate for one of the children on their website. They gave us the profile of a little boy named Igor.
Our family did fundraisers for his grant fund. We prayed for him daily. We prayed for his safety; his health; that he'd have food to eat each day and that people would be near him and care for him. We also prayed that his forever family would hurry and adopt him. After a year of praying for him we realized that God had US to be his family! Joseph Igor was adopted in 2013. We saw so many ways God answered our prayers. His forever family DID hurry and adopt him! (We were in Ukraine 6 months after we started the adoption process!) Another answer to prayer was getting to meet a young missionary lady who visited Joseph's orphanage. She told us how she was teaching the children God's truths, and showing love to the children there in the orphanage. What a blessing!!
Joseph is now able to stand!
Early last spring as Joseph and I were in Philadelphia getting some medical work done, Darrel called me one afternoon. He told me that he felt like the Lord was wanting us to adopt again and that he'd been looking at the children on Reece's Rainbow (that's one of our past-times, but not one we'd been doing much of at that time just because of the busyness of life). I was happily surprised because I felt like the Lord was preparing MY heart for adoption again, too. We began to look at the files of different children and pray for direction.
A month or so after praying and looking, Vienna's file was posted on Reece's Rainbow. There wasn't a picture of her and we didn't even know what country she was in, at first, but our hearts were drawn to her. If we had a "wish list" for the child we'd want to add to our family, she fit it perfectly! We knew that we were prepared for a child with Arthrogryposis, and we were hoping for a little girl! --Perfect! We are SO thankful that God leads when we are open to follow...and that He gives us the desires of our hearts. We are getting so excited to bring her home.
What stage of the adoption are you in right now? How can people help?
We are compiling our dossier right now and are actively raising money for the adoption. We would love for people to pray for our family here and for Vienna. Honestly, we could use financial support too, but we know that will ultimately come from the Lord. We saw the Lord provide when we adopted Joseph, and we know He can do it again. We still need about $25,000 to complete the adoption.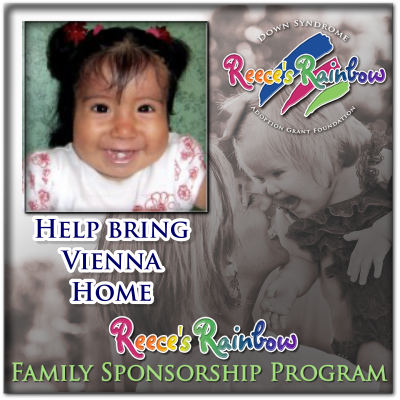 Do you have any current fundraisers going?
Yes, we have a couple of current fundraisers going on.
A friend is having an Online Scentsy Party right now! She is generously donating her commission to our adoption.
Our other current fundraiser is selling t-shirts
.
Here are the designs!

Is there anything you would like people to know about Reece's Rainbow, adoption, or special needs?
We are very thankful for Reece's Rainbow. Not only do they help families raise the needed money to adopt, they also help others become aware of the need. We had no idea about the conditions of kids in so many countries until we were introduced to Reece's Rainbow. We are also forever grateful to Reece's Rainbow because they were the means God used to bring Joseph...and now VIENNA into our family!
Do you have anything else to share?
"God is looking for people through whom He can do the impossible. What a pity we plan only the things we can do by ourselves." (a.w. tozer) "Only one life, twill soon be past. Only what's done for Christ will last." (c.t. studd) 2 of my favorite quotes. :)
Thank you so much Amanda! I loved "meeting" your family and will be praying that Vienna comes home soon and has a smooth transition into your family.