This month, I am
interviewing several families who are adopting children profiled on Reece's Rainbow and sharing their stories on the blog.
Have you heard of Reece's Rainbow?
Reece's Rainbow is an amazing foundation that helps to raise funds to bring waiting children home from overseas. There are many families wanting to adopt special needs children, but the overwhelming cost can be a barrier.
To learn more, click here
This week I am interviewing Destiny Davidson, a single Mom who has created her family through the

miracle

of adoption.
First of all, I'd love to hear a bit about you!
I am single, 45 years old and have been a police officer for 24 years. I have worked my way up to the rank of Captain and am almost finished with my Master of Science in Emergency Management. I live in a suburban area outside of Atlanta, GA. I grew up having never met my father who abandoned my mom when she got pregnant. My sister's father also abandoned her. I feel that these experiences led me to a different path when it came to creating a family. I also feel that this sense of loss allows me to understand a little bit of what these children have experienced.
Who are you adopting?
I am adopting "Effie" who is almost 5 years old. She has a Tessier facial cleft and nose malformation. She was abandoned at the age of 2 months and has lived in an orphanage her entire life. She is a beautiful little girl and I can't wait to get her the medical care she needs to reach her potential.
Do you have any other children?
I adopted my biological great nephew Andrew who is now 18.
I have a 14 year old daughter Morgan who I adopted at 14 months from China.
I have an 11 year old daughter Jaden, also from China who had isolated cleft palate.
I also have a 9 year old son, Mathew who has a mostly repaired bilateral cleft lip/palate. He is also from China.
The adoption of Morgan was an amazing, magical experience. We bonded quickly although she did have some feeding issues for several months that we mostly got through. She had never had solid foods at 14 months so it was a bit of a challenge.
The actual adoption of Jaden went well although the flight there was a nightmare. She had no eating issues and integrated with the family very quickly once home. She is beautiful and brilliant! Mathew was already 2 1/2 and had a close relationship with the orphanage director. He hated me while we were in China but fortunately bonded well with Morgan who was with me. We are now very close and he has ongoing treatment for his cleft related issues. He is a very easy going little boy with a funny sense of humour. All of the children are very close.
What led you to adopt? Did you feel called to your children?
I always knew I would adopt. Andrew came along much earlier than I was prepared for but he needed me. Morgan was a "healthy" child adoption and that match was made in China as part of the criteria I had requested. Jaden was placed with me sight unseen in China after an older child that I went there for refused to be adopted. I found Mathew waiting online with his precious little unrepaired lip and palate. I fell in love with his eyes.
As for "Effie", I found her waiting online, sponsored by one agency and then a video of her older, sponsored by another agency. She was listed with different names but because her facial cleft is so unusual, I knew it was the same child. I fell in love with her video and the rest is history.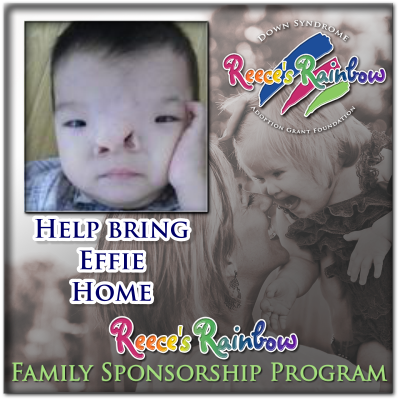 What stage of the adoption are you in right now? How can people help?
The home study is complete. Most of the dossier is complete. I just got fingerprinted yesterday for the I800A for immigration. Funding is the biggest need! I have 2 major payments coming up very shortly.
So far I have applied for 3 grants but already denied one. Most grant agencies require married couples.
We just finished a dinner fundraiser that was successful and raised enough to pay the first agency fees.
I will also be starting a part time job overnight on the weekends to raise extra money.
We will also be doing a dinner soon followed by a yard sale.
Fundraising is a bit difficult for me since I am by myself but we will get there somehow!
Is there anything you would like people to know about Reeces Rainbow, adoption, or special needs?
Adoption is an amazing experience. People always say the kids are so lucky but really I feel like I am the one who is most blessed. There are so many children waiting with special needs and some of them are so manageable. As I have become more experienced, I have slowly taken on more serious needs, but ones that I feel I can manage.
Thank you so much, Destiny! I truly enjoyed hearing about you and your children. I am so thrilled for your family and little Effie is such a sweetie!
You can stay updated on Effie's adoption and keep up with the Davidson family on their blog at adoptivemomof4.blogspot.com